1Password 3 – An amazing update
Agile Software has recently released version 3 of their popular password manager, 1Password. Its no surprise I am a huge fan of this application, but with all that packed into this new version I love it more.
The feature list for 1Password 3 is about 50+ but some of them really stand out. Especially the custom keychain, mobile syncing, software licensing management and even the new design.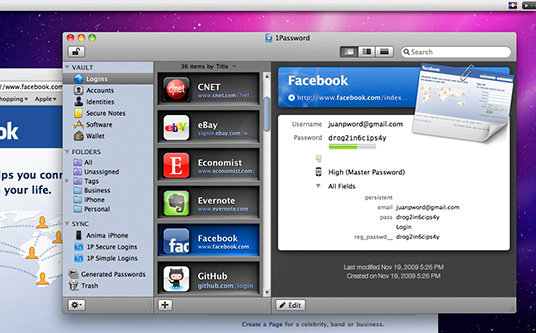 64 Bit, check!
Starting at the core the new version runs natively on Snow Leopard in 64bit mode. This of course means more responsive and faster performance overall.
Mobile Syncing
With the 1Password iPhone app you can travel with your passwords and even use the app to login to MobileSafari web pages without ever having to enter a password.
Faster search
1Password 3 now features much better and robust searching. You can quickly drill down on your passwords and find the correct one with ease.
Accounts
This is a lesser known feature but extremely useful. It gives you the ability to store account passwords, such as those for Airport, FTP, IM and the iTunes store, for example.
Attach files
You can now attach files (licenses, order receipts, keys) to any item in 1Password. This is especially useful for digital purchases, which normally have a simple email key that you often times misplace over the years.
Closing thoughts
I would like to see Chrome supported in a dot release soon, but I suspect that feature is held on the limitation of plug-ins with Chrome on the Mac.
In the end, the peace of mind with having all of my passwords stored safely really is priceless but the low price of $39.95 or $24.95 for the upgrade is a drop in the bucket. Stop remembering all those passwords and use 1Password.
Pick up a copy today, over at the Agile Online Store.