1Password – Password Management for OS X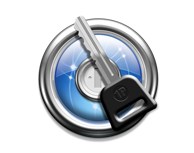 I have always been looking for ways to manage all my password, across multiple browsers and even systems. Originally I started writing them down (worst idea) and then started using only a few passwords, but that was just as bad. After that I began to use the Keychain that ships with every Mac, but this became a problem when I purchased a new MacBook Pro because I had to transfer all of the keychain data to that new machine.
Another problem with relying on the keychain is it only really works for some applications because not all browsers and programs support it.
Well, the issue is now in the past because I have been using 1Password which allows me to share my login information across browsers and manage it all within one powerful application.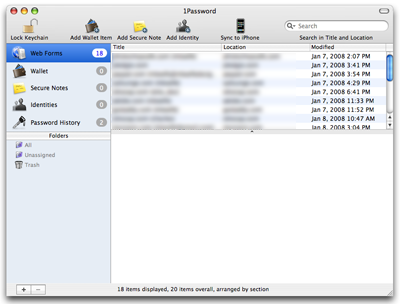 Getting Started
You start off by setting a master password so you don't have to be bothered with many passwords. This feature alone is enough for me, but it goes beyond that. 1Password allows me to choose, random, strong passwords any time I register for a site. Whenever a new form is encountered 1Password asks me to save that password for future use, or you can enable 1Password to automatically store new forms.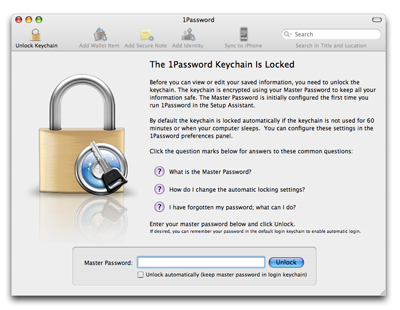 Phishing Prevention
Another great feature of 1Password is phishing prevention. Let's say you visit a site and attempt to retrieve the login information but its not there, you would now be concerned and confused, but at the same time you know the site isn't the correct one. This means your identity isn't stolen and your login information is stored safely from prying eyes.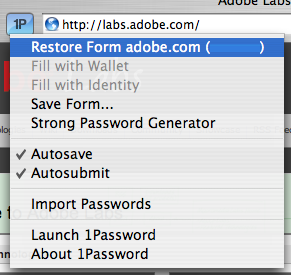 Password Management Made Easy
Managing your passwords from the easy-to-use application is seamless and quick, and of course you can lock down this application, requiring your admin password in order to modify the settings.
Sync with .Mac
1Password has the ability to sync with your .mac account which means you can have all of your logins synced across your computers. This was especially important for me because I need to have access to my clients systems no matter which machine I am on and now I have this.
Leopard Support
As a bonus, it works on Leopard too!
Overall I found this application to do exactly what it was advertised and that is a great thing.
You can download a demo here and a full license will set you back about $29.95, which can be purchased at AgileOnline. (discount code added to bring price down a bit)